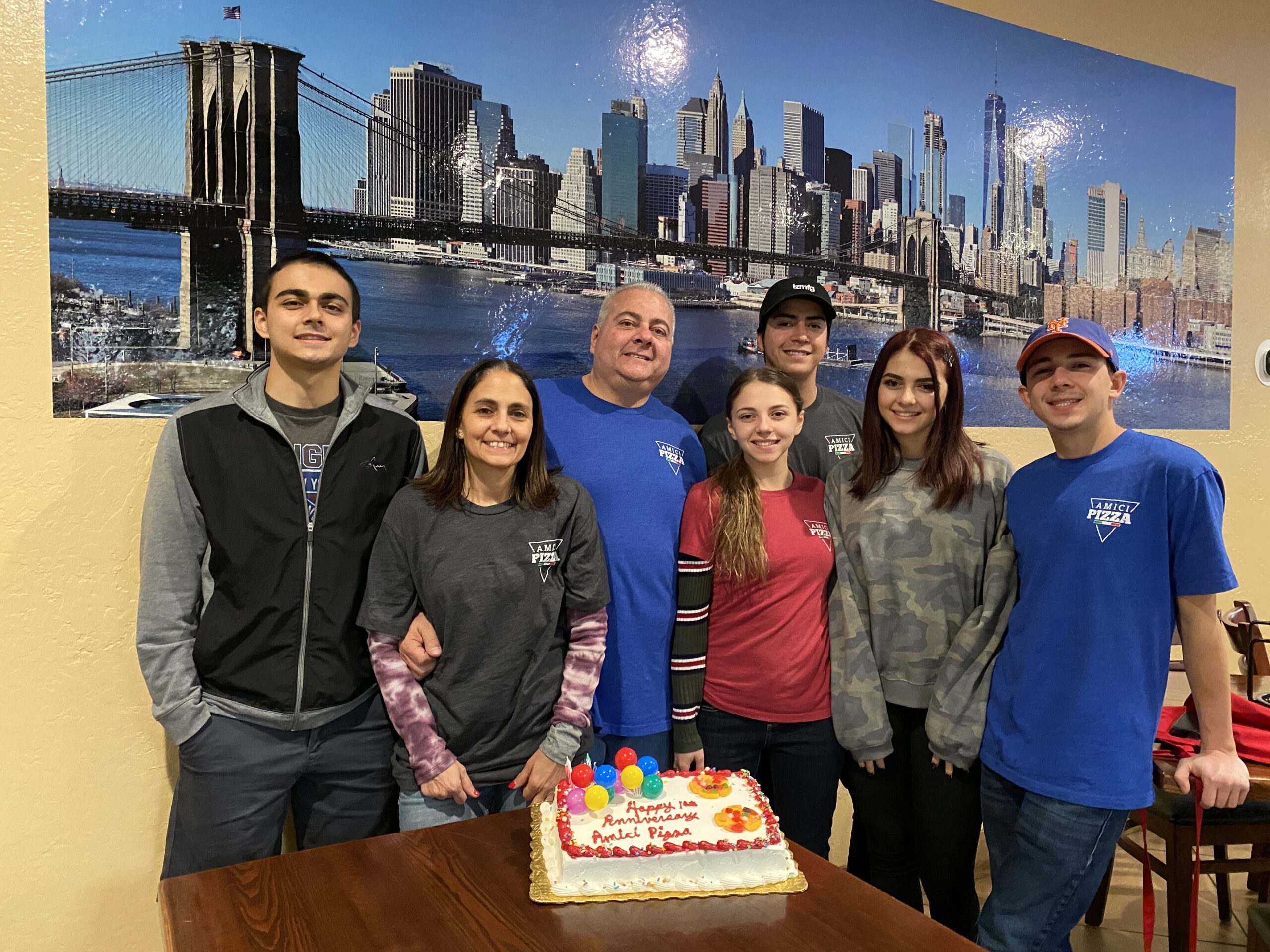 THE GLORY DAYS (1989-2013)
Buono's Pizza first opened in 1989 under the ownership of Jimmy Pante and his family. Through two decades of the Pante family bringing delicious pizza to the East Valley, Buono's established itself as the go-to place for New York-style pizza in the desert.
THE RETURN OF BUONO'S PIZZA (January 2019)
After the Pante family sold Buono's to new ownership in 2013, the restaurant went out of business by April of 2018. In August of 2018, Staten Island, New York native and family friend of the Pante's, Steve Cusumano purchased Buono's Pizza with the intention of bringing the Pante's original, famous recipes back to the valley. Steve and his wife, Anna, along with their kids, Cole, Steven Jr., Kateri, and Joy have worked in the restaurant business for many years, honing in on the art of excellent dining service. In partnership with Jimmy and his son, Vinny Pante, the Cusumano family reopened Buono's Pizza on January 2, 2019 with the pledge of bringing delicious New York-style pizza and exquisite service back to the East Valley.
AMICI PIZZA: A NEW CHAPTER (March 2019)
On March 3, 2019, Buono's Pizza changed names to "Amici Pizza," officially signaling a new chapter in ownership. "Amici," directly translates to "friends" in Italian; a fitting name as Amici Pizza should be a place where friends and family alike can gather together (and make new friends), while indulging in the best New York-style pizza and Italian food that the valley has to offer. Amici Pizza is still overlooked by the Cusumano and Pante families, who are bringing the same, original Buono's Pizza family recipes and superb service to your table. The kitchen is run by part-owner Vinny Pante and his brother James Pante III. Vinny and James are the sons of Jimmy Pante, who originally owned Buono's Pizza from 1989-2013.
RESTORATION PROCESS (2018)
After the Pante and Cusumano families acquired Buono's Pizza in August of 2018, the restaurant needed immense renovations and work before being reopened. Below are a collection of photos beginning with what the restaurant looked like at the time of repossession in August of 2018, through the five-month restoration process that led up to Buono's Pizza's 2019 grand re-opening. Remnants of Buonos' old restaurant memorabilia can be found on the commemorative memory wall near the back of the restaurant.